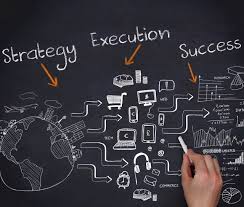 Just thinking about the look and feel of the website is not enough. It's about how a website builds interest in the user's mind to interact and take an action. Website development should be accompanied with the consumer behaviour and in depth research on the kind of colors, text and images to be added on the website.
Here are some rules you can follow for that perfect website development:

1) It Should Be Simple

Nowadays, people use a lot of new technical detailing and for any developer it will be more fascinating to add as many features to make it look cool. Well, to understand better, it is more to be simpler and clean website.
Simplicity in website development will play an even greater role in the design of the website the older your target market is.
Many website development companies in Dubai and across the world think about making a website which adheres to these rules. Hence it is necessary for every type of developer to understand the need with the changing trends.

2) Pass A Test

This new age world is difficult to gain attention from a website; run pass a test for the same. It's very simple way to measure the success of your website development with the goals of your website. The test should be in a way that how much time it takes for a visitor to understand.
Make sure you do not add much clutter to the website. The visitor shouldn't be distracted and understand the overall purpose of the website. The simple rule is to win over the visitor in the first 5 seconds.

3) Content Is The King, Indeed.

Undoubtedly, it is the king. While developing your website, it is important that you do not refrain from creating good pages and filling those pages with seriously good content. Websites with over 50 pages receive far more traffic than 10 page websites; and websites with over 100 pages receive exponentially more web traffic than most 10 page websites.
Remember, the number of pages does matter, however the content within those pages plays a significant role in website development.

4) Do Not Irritate Your Visitors

Thinking of using more colors, ton of stock images, and extra extra-ordinary content, this is not what people want today!
Do not irritate your visitors with harsh colors or contrasting colors. Avoid having too many items in motion and always try and avoid too much clutter.

5) It's All About Google

Google holds the power of over 78% of all search engine queries. This means that adhering to Google's Rulebook during website development is key to getting indexed and ranked for your keywords.
This doesn't mean that you create the website for Google alone. Do what you want to do, but do not forget the rules.

6) Do not forget about Mobile

Google's mobile friendly algorithm update will have devastating consequences to website development projects that do not keep mobile device viewing in mind.
Every website today is made with an objective to reach out to those who access through smartphones. Mobile is the key to achieve better in the digital market.
You can check with Google to see if your current website development is mobile friendly or not with their mobile friendly website tool or you can contact us for a free mobile website analysis.