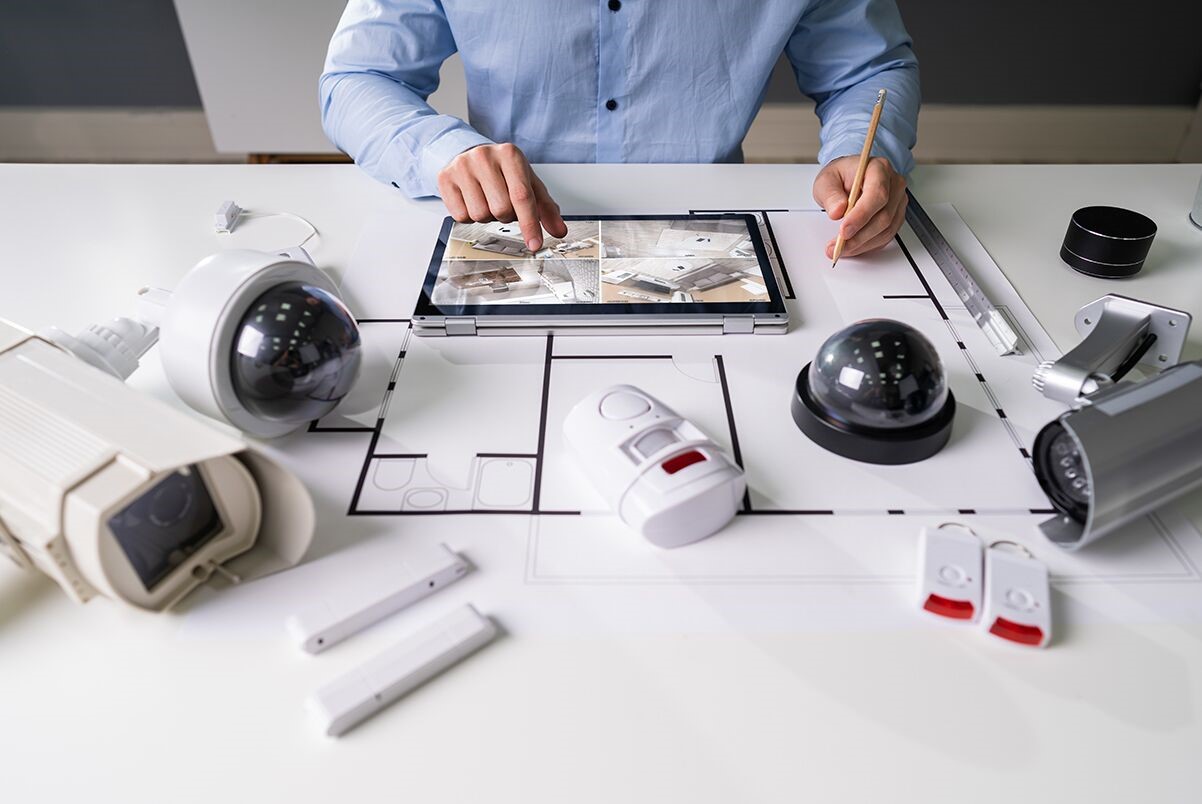 In the ever-evolving landscape of Dubai, ensuring the safety and security of your home and business is paramount. CCTV (Closed-Circuit Television) installation in Dubai offers a multitude of benefits and advantages that extend beyond conventional security measures. Here's a comprehensive look at how CCTV installation can elevate the protection of your premises:
What are the Benefits & Advantages of CCTV Installation in Dubai
1. Crime Deterrence:
The mere presence of CCTV cameras in Dubai, UAE acts as a strong deterrent against potential intruders and criminal activities. The knowledge that their actions are being monitored discourages criminals from targeting your property.
2. 24/7 Surveillance:
CCTV cameras provide round-the-clock monitoring, ensuring continuous vigilance over your property. This surveillance is particularly beneficial during non-business hours, offering comprehensive security.
3. Evidence Collection:
In the unfortunate event of incidents, CCTV footage serves as crucial evidence. This aids law enforcement agencies and legal proceedings, increasing the likelihood of identifying culprits and resolving cases.
4. Remote Monitoring:
Modern CCTV systems enable remote access through smartphones and computers. This empowers you to monitor your property from anywhere, providing peace of mind even when you're away.
5. Employee and Customer Safety:
For businesses, CCTV installation contributes to monitoring employee activities and ensuring their safety. It also tracks visitor movements, enhancing overall security.
6. Reduced Security Costs:
Relying solely on human surveillance can be expensive. CCTV installation in Dubai offers cost-effective security by reducing the need for extensive security personnel.
7. Emergency Response:
In the event of emergencies such as fires or accidents, CCTV footage aids emergency responders in assessing situations accurately and formulating effective action plans.
8. Boosted Confidence:
CCTV installation in Dubai communicates to employees, customers, and visitors that their well-being is a priority. This fosters a sense of security and establishes a positive environment.
9. Preventive Measures:
CCTV cameras in Dubai play a proactive role in preventing incidents. The awareness of surveillance often discourages individuals from engaging in unlawful or inappropriate behavior.
10. Versatile Usage:
Beyond security, CCTV footage can be utilized for analyzing customer behavior, enhancing operational efficiency, and optimizing business processes.
11. Insurance Benefits:
Many insurance providers offer reduced premiums for properties equipped with CCTV systems. The presence of CCTV reduces the risk of security breaches.
12. Swift Response:
In case of security breaches, real-time CCTV footage enables quick and decisive action, preventing potential threats from escalating.
13. Record Keeping:
CCTV systems maintain an accurate record of events, aiding homeowners and businesses in tracking activities, accessing historical data, and identifying patterns.
14. Data Analysis:
Advanced CCTV systems can offer insights through data analysis, which is valuable for businesses in refining operations and enhancing customer experiences.
15. Legal Protection:
In cases of disputes, false claims, or liability issues, CCTV footage can serve as an unbiased account of events, protecting your interests legally.
16. Customization:
CCTV systems can be tailored to your specific needs, covering vulnerable areas, high-traffic zones, and critical points, ensuring comprehensive surveillance.
17. Remote Alerts:
Modern CCTV systems can be configured to send real-time alerts in case of unusual activities or breaches, enabling swift response even when you're not on-site.
18. Integration with Other Systems:
CCTV systems can be integrated with other security and automation systems, creating a cohesive security network that enhances overall protection.
19. Visitor Management:
For businesses, CCTV helps manage visitor access, ensuring that only authorized individuals enter restricted areas, thereby enhancing security levels.
20. Peace of Mind:
Knowing that your property is under constant surveillance offers unparalleled peace of mind. This tranquility extends to both your personal space and business operations.
21. Visual Deterrence:
CCTV cameras are visual reminders that the premises are under scrutiny, discouraging anyone with malicious intentions from attempting unauthorized access.
22. Employee Productivity:
For businesses, CCTV installation in Dubai can boost employee productivity by promoting a secure and focused work environment.
23. Reduced Vandalism:
The presence of visible CCTV cameras reduces the likelihood of vandalism or graffiti, preserving the aesthetic appeal of your property.
24. Enhanced Decision Making:
Access to historical CCTV footage aids in decision-making processes, especially in identifying areas that require improvement or attention.
25. Long-Term Investment:
CCTV installation in Dubai is a long-term investment in safety and security, offering ongoing benefits and safeguarding your property's value.
Why Choose Al Hutaib for CCTV installation in Dubai for your Home & Offices?
Al Hutaib is a leading provider of CCTV installation in Dubai. With 20 years of experience and a team of highly skilled technicians, Al Hutaib offers a wide range of cameras and services to meet your needs as businesses and homeowners in Dubai. Some of the key benefits of choosing Al Hutaib as your CCTV camera installation Company in Dubai include:
1. Expertise and Experience in CCTV Installation in Dubai:
Al Hutaib has a wealth of experience in CCTV installation in Dubai, and the technicians are highly skilled in the latest technologies and installation techniques.
2. Wide Range of CCTV Camera Installation in Dubai:
Al Hutaib offers a wide range of CCTV camera installation in Dubai from top brands, including wired and wireless CCTV camera options, to meet the needs of businesses and homeowners.
3. Professional CCTV Installation in Dubai:
Al Hutaib provides professional and reliable CCTV camera installation services in Dubai, ensuring that your cameras are installed correctly and efficiently.
4. Customized Solutions for CCTV Camera Installation:
Al Hutaib provides customized solutions to meet the specific needs of each customer, including customized CCTV camera placement, wiring, and software.
5. After-Sales Support:
We provide excellent after-sales support, including regular CCTV camera maintenance and repairs, to ensure that your CCTV cameras in Dubai are functioning optimally at all times.
6. Affordable CCTV Camera Prices in Dubai for Home & Offices:
Al Hutaib offers best & affordable CCTV camera prices for its products and services, making it a cost-effective option for businesses and homeowners in Dubai.
In a city as dynamic as Dubai, where safety is a priority, embracing the advantages of CCTV installation in Dubai is a strategic decision. Whether it's safeguarding your home, securing your business, or creating a protected environment for your employees and customers, CCTV systems offer a holistic security solution. By harnessing the power of technology and surveillance, you empower yourself with the tools needed to ensure a secure present and a promising future. Elevate your security posture, foster confidence, and enjoy the benefits that CCTV installation brings to your home and business.
FAQs: Understanding the Benefits and Uses of CCTV Cameras in Dubai
Q1: What are the benefits of having CCTV cameras in Dubai?
CCTV cameras in Dubai offer increased security and surveillance, deterring criminal activities and providing evidence in case of incidents.
Q2: What are the benefits of installing CCTV cameras at home in Dubai?
Home CCTV installation in Dubai enhances residential security, monitors property remotely, and offers peace of mind to homeowners.
Q3: Is it worth installing CCTV in Dubai?
Absolutely, installing CCTV in Dubai is worthwhile for both residential and commercial properties, as it boosts security and helps prevent various risks.
Q4: What are the advantages of CCTV cameras in public places in Dubai?
CCTV in public areas enhances safety, aids law enforcement, and deters potential threats, making Dubai's public spaces more secure.
Q5: What are 3 main uses of CCTV cameras in homes and offices in Dubai?
CCTV cameras in homes and offices serve for security monitoring, remote surveillance, and recording evidence of incidents.
Q6: What are the advantages and disadvantages of CCTV cameras in Dubai?
Advantages include improved security and evidence collection, while disadvantages may include privacy concerns and initial costs.
Q7: Is CCTV good for home security in Dubai?
Yes, CCTV enhances home security in Dubai by deterring burglaries, monitoring surroundings, and assisting in identifying intruders.
Q8: What is the difference between CCTV and home security camera in Dubai?
CCTV typically refers to a broader surveillance system, while home security cameras focus specifically on residential protection.
Q9: What do I need to know before installing CCTV in Dubai?
Understand local regulations, placement strategies, and consider your specific security needs before installing CCTV in Dubai.
Q10: Where is CCTV most commonly used in Dubai for homes and offices?
CCTV is commonly used at entry points, common areas, parking lots, and valuable spaces in both homes and offices in Dubai.
Q11: Which is better, CCTV or alarm in Dubai?
Both have their merits; CCTV provides visual evidence, while alarms alert residents of potential threats. Combining both offers comprehensive security.
Q12: Where is the best place to put a security camera in Dubai?
Ideal places for security cameras include entrances, high-risk areas, and blind spots that require monitoring in Dubai.
Q13: Where not to install security cameras in Dubai?
Avoid placing cameras in private spaces like bathrooms, bedrooms, or any area that infringes on privacy rights in Dubai.
RECENT BLOG
Top 7 best CCTV camera brands in Dubai for your home & offices
CCTV camera price for homes & offices in Dubai
How to Choose the Right CCTV Camera Installation System in Dubai
Avoid These 12 Common CCTV Camera Installation Mistakes
SIRA Approved CCTV Installation: Understanding CCTV Rules and Regulations in Dubai